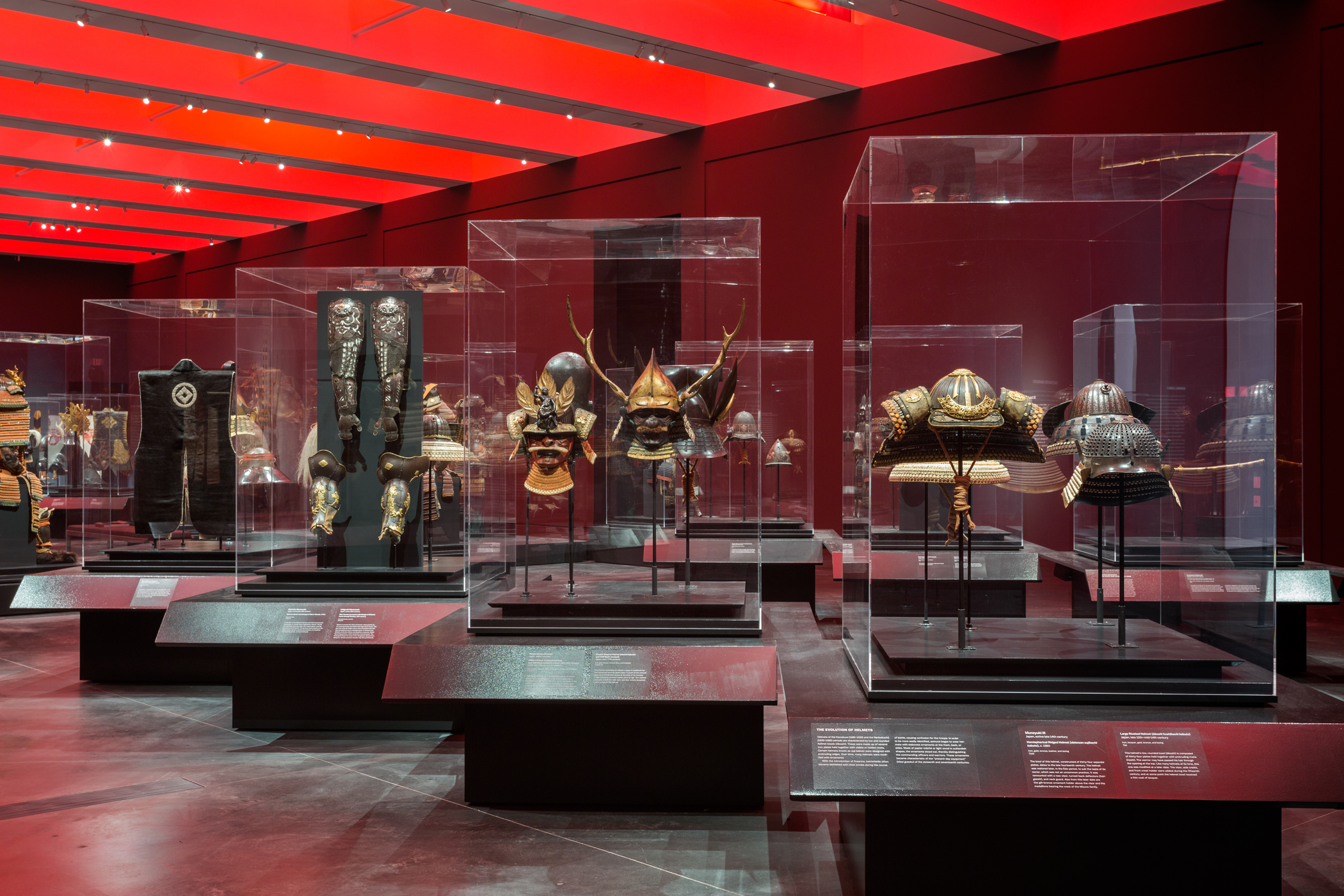 The Samurai Collection's touring exhibition began traveling the world in 2011, showcasing more than 140 pieces from the collection of Ann and Gabriel Barbier-Mueller.
The touring exhibition, SAMURAI, has been presented in over 10 cities at museums such as LACMA, Denver Art Museum, and Kunsthalle München.
SAMURAI is currently touring through the United States, Canada, South America, and Europe. The exhibition is now in Bern, Switzerland at the Bernisches Historisches Museum from November 4, 2021 – June 6, 2022.
Check out what they have to say about the unique exhibit.
Subscribe to the Harwood District Newsletter to find out where the Traveling Exhibition will be next!
---
AS SEEN AT MUSEUMS AND EVENTS AROUND THE WORLD
2017
Bellagio Gallery of Fine Art LAS VEGAS, NEVADA
Bellagio: Bellagio Gallery of Fine Art Honors One of Japan's Most Notable Art Forms with the Debut of Samurai: Armor from the Ann and Gabriel Barbier-Mueller Collection
Luxury Las Vegas: Artful Armor
Las Vegas Review-Journal: Entertainment Guide
2017
The Barbier – Mueller Collections: 110 YEARS OF PASSION, LA BIENNALE PARIS, PARIS, FRANCE
La Biennale Paris: An Exhibition in Homage
Financial Times: Barbier-Mueller Collection at Biennale Paris
Sothebys: Barbier-Mueller Collection and More at La Biennale
NY Times: Out With the Old, and in with La Biennale Paris
Blouin Art Info: 110 Years of Passion: The Barbier-Mueller Exhibition
Christie's: Celebrating 40 Years of One of the World's Pre-Eminent Collections of Tribal Art
Green Hotels Paris: The Biennale Paris Pays Tribute to the Collector Jean-Paul Barbier-Mueller
Vogue: September's Must-See Exhibition – The Biennale des Antiquaries in Paris
Niana.co: Gala Dinner, La Biennale Paris
2017
Phoenix Art Museum, PHOENIX, ARIZONA
Phoenix Art Museum: Phoenix Art Museum Explores History, Artistry of Samurai Culture in Upcoming Exhibition
AZCentral: What's New at Phoenix Museums in 2017
Courier-Journal: Photos – Samurai Exhibit at Phoenix Art Museum
Cultural News: Phoenix Art Museum Presents…
2021
The Samurai Legend, BERN, SWITZERLAND
Bernisches Historisches Museum: The Samurai Legend: The Ann & Gabriel Barbier-Mueller Collection